re:SOURCE
your online source for everything home + style!
Click on a category name to access all listings in that category.


• manufacturing

All-Clad Metalcrafters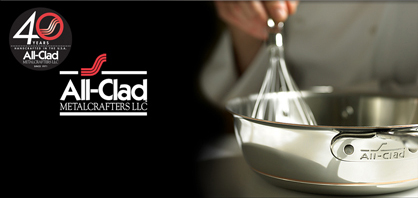 All-Clad Metalcrafters

-
1.800.418.3325
345 Passmore Ave.
Toronto, ON M1V 3N8
all-clad.ca
Locate on map



When John Ulam founded All-Clad Metalcrafters more than 40 years ago, his discipline as a metallurgist compelled him to bond together different metals to capitalize on each of their unique properties. What he created was a revolutionary metal-bonding technology that combines science and art to achieve optimum conductivity, even heat distribution, and superb cooking surfaces.

Every piece of All-Clad cookware is handcrafted and hand-inspected at each stage of the manufacturing process to ensure that it maintains All-Clad quality standards. The signature stay-cool handle is cast from solid stainless steel and is ergonomically-designed for comfort during long cooking sessions. Rivets are formed from high-yield-strength stainless steel and treated to remove trace elements of iron that could otherwise cause corrosion. All-Clad cookware is also manufactured to the most stringent environmental standards — virtually every ounce of unused material is recovered and recycled.

Designed with professionals in mind, All-Clad remains the cookware of choice for many of the world's best-known chefs. Our customers also have the added assurance of our lifetime warranty. All-Clad will promptly repair or replace any item that does not live up to our rigorous quality guarantee under normal care and use.

At All-Clad, performance is paramount, and quality will never be compromised. These are the principles that have guided All-Clad from its inception, and the engineers and artisans whose passion and pride continue to turn cookware into heirlooms.