re:SOURCE
your online source for everything home + style!
Click on a category name to access all listings in that category.

Graphic Design || Multimedia Design || Advertising || Web Services ||

• by appointment only
• commercial retail
• Consultancy

Three Storey Studios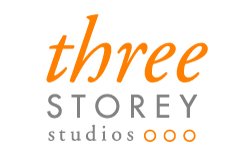 | | |
| --- | --- |
| Three Storey Studios | 416.253.8972 |
2973 Lakeshore Blvd, Suite 202
design@threestoreystudios.com
Etobicoke, ON M8V1J5
www.threestoreystudios.com
Locate on map

At Three Storey Studios we have three core beliefs that guide us in our work:

ONE: We understand and value the research and conceptual phases of the design process. In this we deliver messages with meaning and integrity.

TWO: We meet each project with enthusiasm. It is through an open and energetic stance that we are able to carry out each project to its full potential. If making an impact means thinking differently, communication solutions must be custom-fit and well thought-out.

THREE: In the end we care about our customers satisfaction. When minds meet to solve a problem, they strive in the end for the best results possible and for the process to be rewarding and satisfying.

So give us a call or visit our website because "Everybody has a Story, Let us Telll Yours!"

Lakeshore and Islington

Eighth Street

Corner of Eighth and Islington