re:SOURCE
your online source for everything home + style!
Click on a category name to access all listings in that category.


• manufacturing

Kyolic - Purity Life Health Products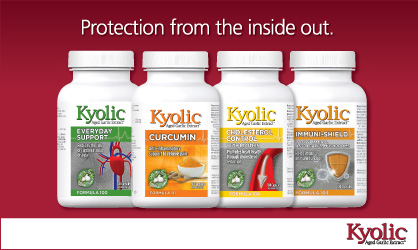 Kyolic - Purity Life Health Products

-
1.877.265.2615
6 Commerce Crescent
info@kyolic.ca
Acton, ON L7J 2X3
kyolic.ca
Locate on map



Garlic: the health benefits of this aromatic plant have been known for centuries. Around the world, different cultures have used garlic to address a wide variety of ailments and health issues. While many of the garlic supplements on the market promote the benefits of fresh garlic - particularly allicin - research has found that the health benefits of garlic actually increase when garlic is aged.

Kyolic™ Aged Garlic Extract™, or AGE, is the most trusted name in garlic supplements. AGE is made by allowing whole cloves of organic garlic to age naturally over a period of 20 months. This aging process helps to break down the harsh, irritating, and odorous compounds in garlic, and form biochemically stable ones that aren't present in fresh garlic. Hundreds of scientific studies have found that AGE has unique properties not found in other garlic supplements, including antioxidant, cardioprotective, anti-inflammatory and immune-boosting activities.

Aged Garlic Extract™ is available alone as an everyday protectant in a variety of dosage forms, or blended with a various premium quality ingredients that work synergistically to address specific health concerns:

Cardiovascular Health
Immune Health
Digestive Health
Inflammation
Cholesterol Levels
Blood Sugar Levels
Combatting the effects of Stress
Heavy Metal Contamination and Chemicals

For more information about Kyolic™ products, or to learn more about the research behind Aged Garlic Extract™, visit us at kyolic.ca. Kyolic™ is available for purchase in all major Health Food stores and most pharmacies.