re:SOURCE
your online source for everything home + style!
Click on a category name to access all listings in that category.

Grocery ||

• manufacturing

Piller's Fine Foods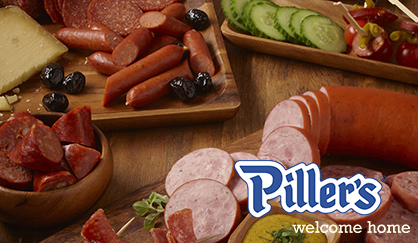 Piller's Fine Foods

519.743.1412
1.800.265.2628
443 Wismer Street
Waterloo, ON N2K 2K6
pillers.com
Locate on map

In 1957, Wilhelm Huber opened a small butcher shop in Waterloo, Ontario using family recipes and traditional European meat processing methods to provide his customers with authentic, great-tasting European deli meats. Two years later, his brothers Edward and Heinrich joined the company which became Piller's Sausages and Delicatessens Limited. From those humble beginnings, Piller's has become one of North America's largest producers of European sausages and deli meats, famous for award-winning products such as Black Forest ham and air-dried salamis. To this day, after five generations of sausage makers, Piller's still uses the same natural aging, curing, and smoking process that had customers lining up outside Wilhelm Huber's butcher shop over 50 years ago. The company was acquired by Premium Brands Holdings Corporation in 2011 and is now known as Piller's Fine Foods.