re:SOURCE
your online source for everything home + style!
Click on a category name to access all listings in that category.

Vehicles ||

• open to the public

Midtown Honda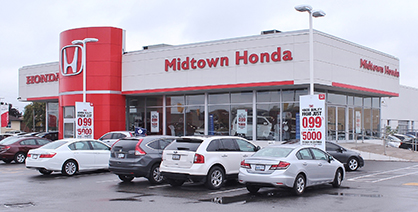 Midtown Honda

416.789.4101
1.877.238.4612
3400 Dufferin Street
info@midtownhonda.com
Toronto, ON M6A 2V1
midtownhonda.com
Locate on map

At Midtown Honda, we're Customer Driven! Since 1972, we've been serving Toronto, and building a long-time customer base that is loyal and thoroughly satisfied. Whether you are new to Midtown Honda or already part of the "family", we are committed to making your experience the best you've ever had. To this end, we offer a broad range of new Honda cars and trucks, and used cars from Honda and other makes.

Our dealership is in a prime Toronto location on Dufferin Street and highway 401 - directly across from the Yorkdale Shopping Centre! And in order to serve our customers of diverse backgrounds, members of our staff are fluent in Russian, Hebrew, Portuguese, Italian, Spanish, Tamil, Vietnamese, Filipino, French, English, and even Romanian! It's no wonder we have such loyal customers!

Over and above our commitment to providing you with a top-notch purchase experience, we are proud to offer you a Honda after-sales Service department that is 5-Star rated! We intend to meet all of your automotive needs while making it fit your budget. Our Honda-trained technicians and service advisors - many of whom boast over 10 to 20 years of service at Midtown Honda - have become a second family to our customers. We also offer a fully stocked Parts and Accessories department to suit your needs. You can rest assured that our knowledge and service will make a positive difference during your next visit to Midtown Honda.