re:SOURCE
your online source for everything home + style!
Click on a category name to access all listings in that category.

Decor || Do It Yourself || Paint and Wallcoverings ||

• manufacturing

Shur-Line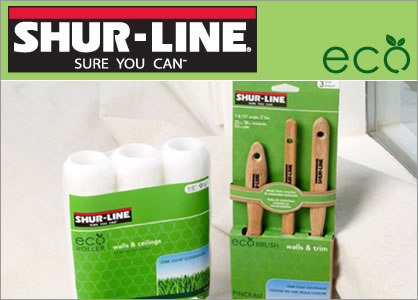 Shur-Line

704.987.4555
877-SHUR-LINE
8935 NorthPointe Executive Drive
Shurline.CustomerService@Shurline.com
Huntersville, NC, --- 28078
shurline.com
Locate on map



SHUR-LINE has a long history of offering innovative solutions for the do-it-yourself consumer. Founded in 1944, operating from the second story of a movie theatre in Fond du Lac, Wisconsin, the Touchett brothers perfected the paint roller for home use. Rolling off a makeshift assembly line, this was the first slip-on roller cover available on the market, making paint rollers accessible to homeowners for the first time. Originally named EZ Paintr, the company was recognized as the first to introduce the concept of do-it-yourself painting.

Since every EZ Paintr executive in the 1950's came from a movie business background, the team employed innovative marketing techniques such as incorporating showmanship into demos. Their intent was not only to demonstrate usage, but more importantly to introduce the do-it-yourself painting concept, town-by-town.

In the late 1940's, EZ Paintr developed a synthetic pile fabric that proved to be a superior material for latex paint application. With EZ Paintr's exclusive use of synthetic pile fabric, the company's rollers were soon regarded as the best on the market. EZ Paintr was also the first to develop performance formulated paint brushes – brushes that performed consistently regardless of the skill of the user. In the 1950's EZ Paintr invented the first blade edger, which marked the birth of the convenience tool category.

In 1953, the New York based SHUR-LINE Company used a similar technology to develop the first two-wheeled edging tool. Both EZ Paintr and SHUR-LINE were considered industry leaders in the convenience tool category.

During the 1950's and 1960's, EZ Paintr engaged in an active acquisition plan, successfully diversifying into new product lines and offering a full breath of products. In 1960, EZ Paintr partnered with Arnold Schmidt, the developer of synthetic pile fabric, and set up Norwood Mills in Janesville. By 1964, Norwood was realizing two and a half million in sales and EZ Paintr proposed a merger.

In 1973, the Newell Group acquired EZ Paintr and continued to maintain focus on industry leadership and innovation. In 1984, the One Coater program and merchandising solution was introduced to the market. Employing a patented technology, EZ Paintr was the first company to offer a one coat guarantee. In 2000, EZ Paintr acquired SHUR-LINE, combining two of the leading pad and trim companies in the United States.

Today, as a Newell Rubbermaid Company and a division of IRWIN Industrial Tools, SHUR-LINE markets a full line of innovative paint application and paint-related products for do-it-yourself consumers under the SHUR-LINE and Rubbermaid brands. SHUR-LINE continues the tradition of innovation with breakthrough technology such as the use of Teflon™ surface protector on painting tools. SHUR-LINE strives to offer do-it-yourself consumers unique and superior painting solutions.