re:SOURCE
your online source for everything home + style!
Click on a category name to access all listings in that category.

Vehicles ||

• by appointment only
• open to the public

Total Auto Glass and Sunroofs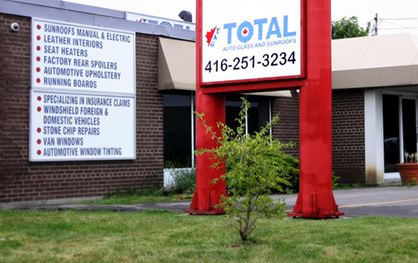 Total Auto Glass and Sunroofs

416.251.3234
1.877.251.3234
40 Belvia Road
steve@totalsunroofs.com
Toronto, ON M8W 3R3
totalsunroofs.com
Locate on map



TOTAL AUTO GLASS AND SUNROOFS provides the best aftermarket car care for foreign, domestic and classic vehicles in the GTA.

Our full line of services are backed by over 30 years' experience in delivering quality workmanship and superior products to add value to your vehicle.

The secret to our success is simple – total customer satisfaction, honesty, integrity and doing it right the first time. Total customer satisfaction just doesn't happen, it's the hard work of dedicated people, working towards a common goal. We go that extra mile to ensure you are satisfied starting from your first phone call or visit through to completion. Without this, we would lose the most important part of our business – you, the customer.

It's what makes us the clear choice for all your aftermarket care and glass replacement needs.