re:SOURCE
your online source for everything home + style!
Category: Window Coverings

• designer showroom
• manufacturing

Altex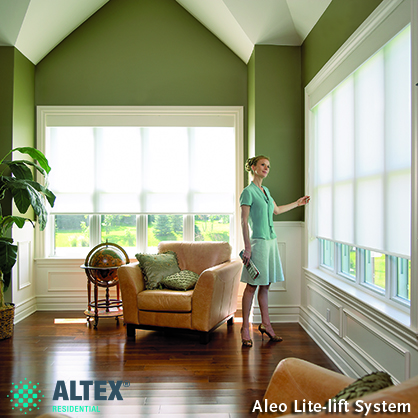 3530, boul, des Enterprises
info@altex.ca
Terrebonne, QC J6X 4J8
altex.ca
Locate on map



Proudly Canadian Since 1975

For over 35 years, Altex has been committed to differentiate itself through its quality and specialization in window shading. Today our combined operation across Canada, includes offices in Terrebonne Quebec, Vaughan Ontario and Richmond British Columbia. With satellite offices in Alberta and Newfoundland. Across Canada and the United States, we have 2000+ successful partnerships with industry leading designers, architects, contractors and dealers. This enables Altex to provide localized services and support coast to coast!

Altex takes great pride in manufacturing quality-certified window coverings, as well as support services to meet the unique needs of our clients. Our design and manufacturing experts aim to accomplish constant innovation, as a result we produce high end customized solutions that exceed client's expectations. Whether it is through the use of a multifunctional fabric or our sleek easy raise Lite Liftâ"¢ system, to providing total home automation, we will design a solution that is tailored on the specific needs of each client requirement.