re:SOURCE
your online source for everything home + style!
Category: Do It Yourself

• manufacturing

Mapei Inc.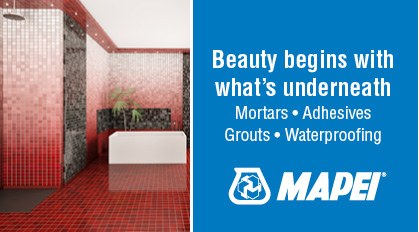 Mapei Inc.

450.662.1212
1.800.42.MAPEI
2900, avenue Francis-Hughes
Laval, QC H7L 3J5
mapei.ca
Locate on map



MAPEI's line of Tile & Stone Installation Systems provides homeowners with a complete range of solutions to ensure the best possible tile installation regardless of budget, time constraints or desired performance level. Choose from our complete selection of surface preparation, waterproofing, mortar, grout and caulk products to create beautiful tile installations that are designed to withstand the test of time.

If you want to find out where you can purchase the MAPEI product you need, click here for the location nearest you.